2 to 5 inches likely.
"It will be mild in the south but further north there is the threat of snow particularly over the hills".
Tuesday: Cloudy and breezy with periods of light snow. New precipitation amounts between a tenth and quarter of an inch possible. Daytime wind chill readings will show up in the 20s for most of the day today. As a result, some low visibility and substantial drifting is possible at times. The NWS advises motorists to plan on slippery road conditions and be prepared for reduced visibility. As it looks now, Sunday will be dry and then we may have some flurries and snow showers on the backside of the system on Monday. Through 10:30 almost a half-inch of snow collected on parked cars in our FOX59/CBS4 studio parking lot.
Winds will remain gusty Thursday, gusting to 25 miles per hour at times.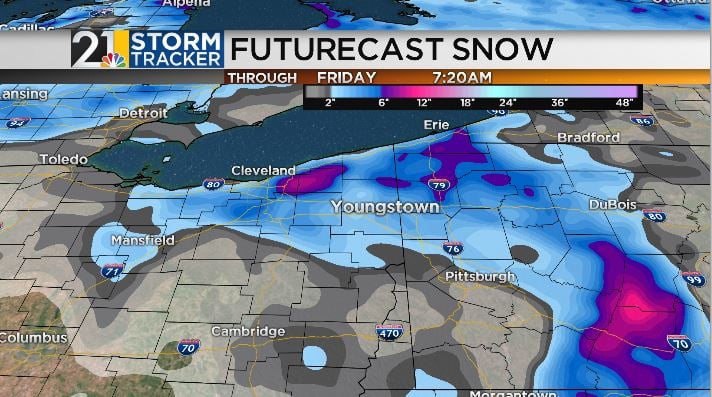 High pressure should push in from the west Wednesday giving us partly sunny skies.
Temps are near freezing early and will be in the mid to upper 30s throughout the day. Thursday and Friday are both very similar days. Highs will reach the low 30s Thursday and mid 30s Friday. So, it won't snow all day tomorrow but a snow start to the day and scattered afternoon snow showers is the plan for your Hump Day. Highs will be in the 30s.
Longer range models, on the other hand, are favoring a warmer trend towards the middle part of the month. Highs on Monday will be in the mid-40s.
Stay safe out there!