All that's left to do is to go to your profile page in the app, and you will be greeted with an option to turn the Dark Mode on. The functionality doesn't appear to be available in Facebook Lite yet, but we'll let you know when we spot it there too.
Facebook teased dark mode in October and tested it in a few regions in January, but now it's widely available. Your screen will then be showered with cute little moons. The procedure works on both Android and iOS, so you can enjoy this new feature on any smartphone or tablet you use. To activate the hidden feature, users must first send the left-facing crescent moon emoji to someone in their chat list.
Facebook Messenger for Android has received an experimental dark mode feature after it was first hinted at last May (via Android Police). Either way, you'll want to send a single crescent moon emoji. If you do receive the pop-up without the raining emoji, double-tap the message or restart the app. Facebook has been consistently working on improving user experience and battery life consumption of the Facebook Messenger App.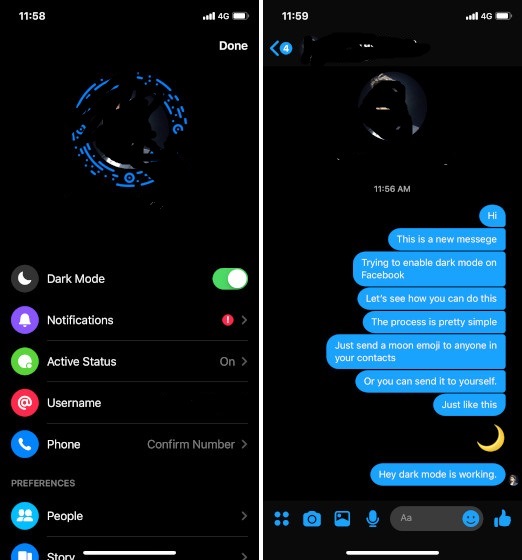 It seems Messenger's new dark mode was added in one of the app's most recent updates.
Hi Messenger! You are getting so dark, you sure you're from the Facebook universe.
I'm a tremendous fan of using "dark mode" or "night mode" on my phone whenever possible. If you don't see it, try updating your app and trying again.